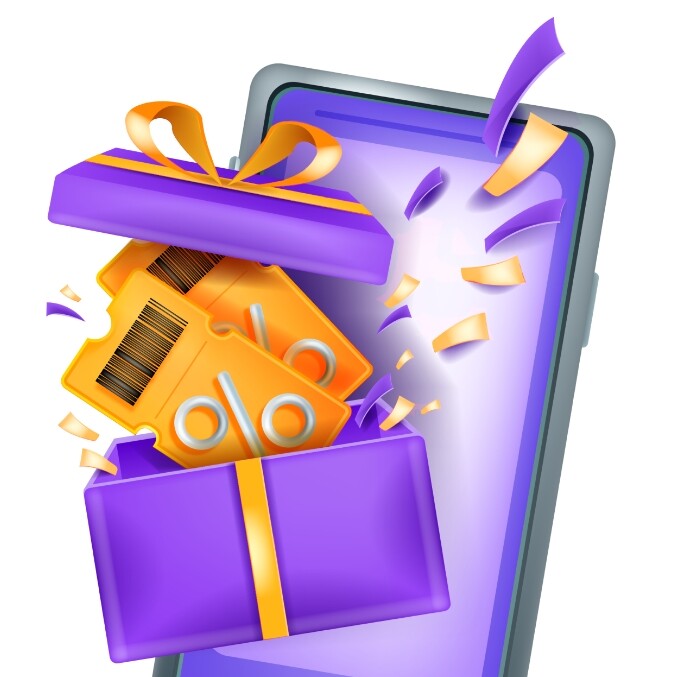 To start converting visitors to your e-commerce mobile app into subscribers or to prepare the app for promotion by a marketing agency, you need to take the following steps. Today, we're going to tell you what actions you can take to increase your conversion rate yourself.
Conversion is the number of users who performed an action divided by the number of all users who visited the mobile app, multiplied by 100%. For an online shop, the normal conversion rate is 1.5-2%. If 15-20 people out of 1,000 visitors make purchases in the app, it means that the store or marketplace is successful.
Let's look at the main points that are important to pay attention to when filling a mobile app with content.

Completeness and usefulness of information. The more you can close the questions of a potential customer, the less likely he will leave for a competitor. Provide the most complete and understandable information on:
registration and payment of goods;
delivery and parcel tracking;
return of goods;
contact information (support phone number, addresses of delivery points, etc.).
Provide a characteristic of the goods. If the product is unique, tell in detail how to use it.
App design should be as simple and clear as possible, not distracting the user from shopping.


For effective online store promotion, you can not work without a "beautiful picture" as the user sees your product as it is depicted on the monitor. Try to use unique photos of the product and create them yourself. Try to use video – a walkthrough of the model in clothes, a mini review on a gadget, how this sofa looks in different interiors, etc. Add a function to view the product in 360 and zoom in on the photo.

Example:
The wardrobe can be viewed in 360 mode;
There is a video;
A picture of an open, filled cupboard makes it clear what approximately fits in it;
The cupboard is presented in the interior of the room;
There is a diagram with measurements.
Brand work, unique selling proposition
The persuasiveness of the brand and your offer also affects conversion rates. Trust in the marketplace can be reinforced with the proper presentation of company information, testimonials, and answers to questions.
Company information. Tell the story of the brand, your goals, principles of work, benefits, and what you have managed to achieve.
Testimonials. This is one of the most important criteria for deciding to buy exactly on your site. Try to encourage people to leave reviews about the product as much as possible, for example, by offering a discount coupon or points. Reviews should include photos or videos to be more effective.
Answers to questions. Answering customers' questions will make them stay longer on the app and increase their loyalty.
Generate an attractive offer. The offer should differentiate you from your competitors by showing that you are giving the customer something very necessary and yet special. This is something that will be very important to your audience and at the same time is your competitive advantage. The best offers are born precisely at the intersection of these two entities. A good offer should answer the questions: "What are you selling?", "Why does the customer need it?". The answer to the first question you will take from the understanding of your product, and the answer to the second – is from the prescribed characters of your target audience. Also, when formulating an offer, try to sell the solution it provides rather than the product.
To increase the conversion rate of your online store or marketplace mobile app:
indicate how many times other customers have already bought the product – this will increase trust;
show how many products are left in stock, or how many people are currently browsing – this will create a feeling of high demand for the product, and that it may soon be gone;
write prices with discounts – this will create a feeling of a favourable purchase;
set up automatic data filling, remembering favourite or regularly purchased products;
make sections "New Products", "Discounts", "Best Sellers", "Season Trends", etc. to guide visitors when they don't know exactly what they want;
leave items in the cart even if the visitor has left the app and set up retargeting for them;
allow canceling an action, for example, when removing a product from the cart – so that the person will think again, perhaps hesitate, and leave the product
set up an online chat so that the client can quickly find out any information he is interested in;
create useful articles.
Add filters, search, and sorting. If the user can not find the product of interest, he will quickly return to the search engine. So take care that the filter is as complete as possible, and that the search is in a prominent place.
Add a 'Favourites' and 'Comparison' block to the site. This will increase usability and conversion opportunities. By adding a product to favourites, a customer may eventually grow to purchase it. With the comparison feature, it is very convenient to compare products by features to decide on a choice.
Make order placement as easy as possible. The more steps you have to take on the way to a purchase, the more likely it is that the customer will not make it. Therefore, the usability of an app is closely related to its conversion rate. What can simplify the purchase:
minimum number of fields in forms;
minimum number of steps in the checkout process (put in basket – checkout – pay – done!);
adding a "buy in 1 click" button;
absence of any distractions in the cart.
Increase LTV: repeat sales
If a purchase is made, don't forget about the customer, try to extend their LTV – lifetime customer value. To do this, you can:
set up an email newsletter with periodic offers of discounts (regular or personal), season trends, and special offers for holidays and birthdays;
set up retargeting on products that the customer also viewed but did not buy. If the customer is satisfied with the order, he is more likely to buy again;
give coupons or promo codes with a discount for the next purchase.
Promoting an online store app is a complicated and complex task that costs businesses quite a lot of money and takes a long time. Since modern users are not ready to allocate space in their smartphones for apps, they keep only those that they use all the time. The struggle for space on the smartphone forces app owners to look for unconventional methods. A comprehensive strategy and creative approach will bring thousands of downloads to the app. An example of this is the mobile applications of AliExpress and other major market players.

A mobile marketing agency will speed up the process of attracting customers and subscribers to a mobile app. Professional marketers work only for results according to the payment scheme agreed upon in advance (CPA, CPI, Revshare, or others) and can increase the number of purchases in your marketplace many times in a short period. If you want to know more about our mobile marketing agency's experience and discuss the details of promoting your mobile app, book a call with our expert.