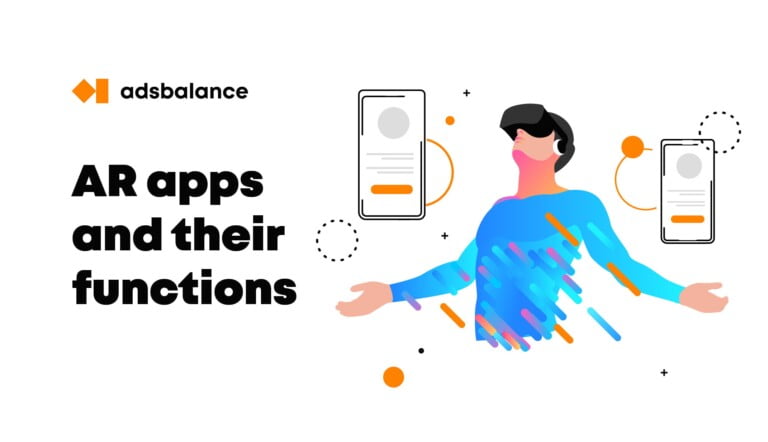 Augmented reality.. According to Wiki, AR is an interactive experience of a real-world environment where the objects that reside in the real world are enhanced by computer-generated perceptual information, sometimes across multiple sensory modalities, including visual, auditory, haptic, somatosensory and olfactory.
You don't need to know all those scary words (though they're fun, we promise), but we can say with confidence that AR is closer to down-to-earth reality than you think. The range of applications include content creation (drawing, photo and video), maps and city experiences, the use of sound, makeup, shopping and many more.
AR apps are a growing trend that is evolving in our eyes, and 2021 is high time we got to know at least the best and funniest of them.

That's why we provide you with a list of the most interesting AR apps and their functions.
Just a Line (Android, iOS: Free)
Doodles are now a lot more interesting. Google used its own ARCore developer tools to create Just a Line, which brings your drawings to life using augmented reality. While Just a Line started as an Android app, iPhone users can join in on the fun, too, with an iOS version.
All you need to play with Just a Line is a smartphone, your finger and plenty of imagination. After you've finished your AR masterpiece, you can capture on video and share it with friends. Although Just a Line can be a fun solo activity, it's a lot better with a friend or two, making it one of the best AR apps for experiencing augmented reality.
Google Lens (Android, iOS: Free)

Google's not fooling around when it comes to the best AR apps. Google Lens is the latest iteration of the Google Goggles concept, with the search giant using the power of its computing cloud to help identify text, images, objects and landmarks in your photographs in order to get more information. The app is available in a standalone version in Android, and is also integrated into the latest versions of Google Photos on Android and iOS as well as the Google app for iOS.


Google Maps (Android, iOS: Free)

Google's interest in AR extends beyond photography and creativity, bringing a more practical use to Google Maps. The popular mapping app features an AR mode that helps you navigate to your destination by adding virtual signs and directional arrows over the live view on your phone in order to point the way.

It's a definite improvement over the old way of navigating, with the arrows adding a handy visual cue that takes the guesswork out of getting from Point A to Point B.


Mission to Mars AR (Android, iOS: Free)




Stepping foot on the Moon is old-hat. Humanity's sights are now set firmly on the Red Planet. Mission to Mars gives you a glimpse of what it might be like to be there — and how humanity's currently exploring the place. (Spoiler: Robots are doing all the heavy lifting.)

There are videos to watch and educational bits to read, but the AR experiences are far more interesting. You can stare goggle-eyed at a rocket launch, attempt to control a terrifying landing sequence, or step on to Mars through a virtual portal.

The best bit, though, is firing up a scale model rover and having it zoom about your house or street, all while making inappropriate brrmmm noises, oblivious to any watching neighbors (or Martians).


Civilisations AR (Android, iOS: Free)

BBC's Civilisations AR is a tie-in app to the broadcaster's Civilisations documentary series. It uses the power of augmented reality to bring to you more than 30 different artifacts from across the many epochs and great civilizations of the world. Civilisations AR is the next best thing to being able to handle these ancient treasures and works of art.

Each artifact can be viewed in lifelike 3D renderings using your phone as an AR viewfinder. You can also check out interactive features on one of the best AR apps like X-ray views and narrations, and learn about the secrets, origins and history of these global cultural treasures.
Quiver (Android, iOS: Free)
Kids can also get in on the augmented reality fun with apps like Quiver, an augmented reality coloring book and app that can bring your child's colored pages to life.
You can download a free and premium image packs from quivervision.com filled with a variety of cartoon characters and animals or educational scenes and images that you can then print out and color with your child. Once done, you can fire up the Quiver app, aim it at the colored page and watch the image come to life with animations and special effects.
SketchAR (Android, iOS: Free)
SketchAR turns your smartphone screen into an augmented reality drawing aid, overlaying a sketch or line art image on a blank piece of paper that you can then trace over or use as the basis of your own sketch.
Users can choose from a library of sketches included in the app, or transform their own photos into traceable line art with the app. SketchAR is designed to work on A4 sized paper, or any paper with four reference circle markers drawn on it to provide scale markers to the app.
SketchAR won't substitute for a proper drawing class by any means, but it's a cute software toy to play with and one of the best augmented reality apps we've seen lately.
Mondly (Android, iOS: Free)
Language learning app Mondly adds an augmented reality-assisted spin with a module for ARKit and AR Core-enabled phones. Mondly's AR features engage language learners with an animated chatbot as well as visualizations of objects and words to help make learning more dynamic, as well as providing instant feedback on pronunciation and any errors.
These AR features come in addition to Mondly's lessons, games, and practice conversations designed to cover more than 30 different languages.
YouCam Makeup (Android, iOS: Free)
YouCam Makeup is an AR-assisted selfie camera that doubles up as a makeup and fashion assistant, letting you preview a range of beauty products such as lipstick, blush, and eye makeup from brands like L'Oreal, Maybelline, and Urban Decay, generated in real-time with augmented reality.
In addition to the makeup and accessories previews and your expected selfie cam editing features, YouCam Makeup also features a lively social element, allowing you to share looks, follow other users, and shop and review featured products.
The Machines (iOS: $1.99)
The Machines is a competitive multiplayer strategy game that takes advantage of AR tools for iOS apps to turn your tabletop into a virtual battlefield.
Players take command of a force of machines to defeat their enemy, with your phone's screen serving as a viewfinder that you have to physically move around to position your forces and aim superweapons. Players can train and learn in the practice mode, and once they're ready, they can battle it out in online multiplayer or in local multiplayer with friends gathered around the same table. It's proof that the best AR apps aren't necessarily all work and no play.
Download The Machines: iOS
Euclidean Skies (iOS: $4.99)
The mind-bending Escher-space-meets-Rubik's-Cube puzzles of Euclidean Lands get a worthy sequel in Euclidean Skies, where you must guide an adventurer past puzzles and perilous foes through a combination of clever moves and rotating the very level itself.
Like its predecessor, Euclidean Skies features an augmented reality mode that lets you get a new perspective on the action, projecting the level and its characters right into your own living room.


(Image credit: Wallame)
The world becomes your canvas with WallaMe, one of the best AR apps for creating geotagged works of virtual art drawn or painted on walls, sidewalks, or buildings without having to spill a single drop of paint.
You can share the locations of your messages or artwork with your friends so that they can view your work with their own smartphone camera using WallaMe. You also can make your work public for any WallaMe user to discover with their viewfinder. In addition to using your phone as a viewfinder, you can search for other user-created WallaMe walls using a map interface.