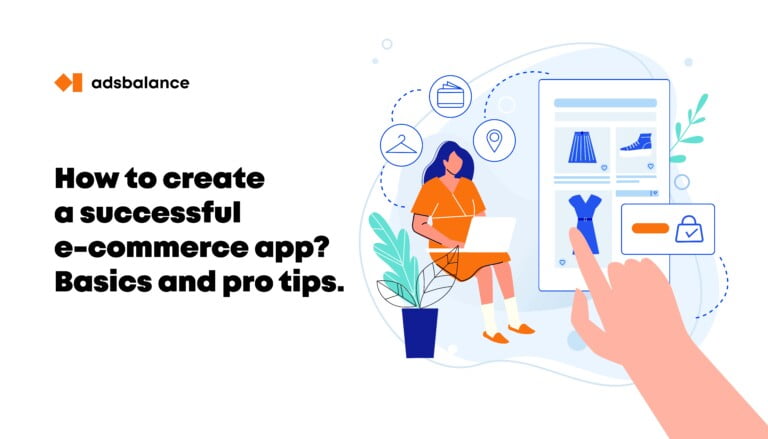 We won't surprise you by saying that people buy stuff online much more than ever, even more than logical evolution implies: the COVID-19 pandemic caused the unseen demand for all kinds of goods, even those you'd naturally buy offline, the demand that the supply, at some point, failed to meet. Even in spite of demand, the competition between online retailers still matters, especially after everyone turned to choosing between not only available, but also comfortable and user-friendly options — and the quality of the goods too, but that is not the subject of this article.
We think it is safe to say that a mobile app is an absolute must for any online B2C retailer, first of all for ones that sell various types of products, and if we speak of clothes — various types of clothing.
However, merely building a regular app is one thing, and creating additional value for your customers is another thing. So how do you make a great e-commerce app?
Define your goals and get to know your regular metrics.

Do you create an app because the majority of your audience uses smartphones for purchases? Do you want to boost your sales in the first place? Do you want to work with customer loyalty by adding some app-only bonuses?
We believe that you know how much you earn, in general and from each user, but here you need to have a plan on how those metrics can be improved.
Pay close attention to your current marketing strategy and users acquisition costs from each channel. Remember that you'll have to promote your app from the very first day of release (even if you do have an impressive and loyal customer base), and you need to calculate your goal CPIs and CPAs before the start of the campaign.
Don't forget the routine part: find a decent analytics platform (here we suggest the top 3 or 4 platforms, this is going to save you a few headaches)


Define your target audience

The tricky trick: your app's audience might be a bit different than your regular one (and that's okay). Try to find (at least, forecast) those differences before you even start to build your app. Well, middle stages work too, but don't be too late. Apart from the boring things like age, gender, interests, there are more sophisticated issues like buying behavior, smartphone usage patterns, social networks they prefer (so that you could find you there) and so on, and so forth.



Plan your budget and estimate the ROI. After that, the timing and the technology stack, if you're able to.

You need to know what options you can afford right now. This will come handy when you start planning your app features and face the temptation of signing up for everything at once.



Create a list of features to be present in the app.

We'll remind you of some of them that will enhance your user experience, but you'll have to invent the body of your app yourself. Do not hesitate to gather your whole product and sales team for a creative session. All the ideas matter!



Think of design and user experience that's related to design.

Even if your website is all black and goth, you have to adapt to mobile reality. CEOs and CPOs usually own cool best-in-class smartphones, do not let yourself be biased by looking at your design prototypes on big and bright devices. Remember that you need not only to support all of the devices your competitors support, but also to provide your customers with as good visuals as their phones (and tablets!) are capable of.
Keep the design and navigation simple! Avoid long texts, maybe even descriptions
About the texts:if you're planning to localize for completely new region (we hope you are!), be ready for the fact that your font must remain your standard brand one or resemble it very closely.
Remember that each platform has its own design guidelines. An IOS user won't welcome an "Android" app on their device:)





Navigation is king.

Keep the navigation simple! Even simpler! The simplest you can afford without sacrificing the ability to buy goods from you.
You'll also benefit from being logical and consistent, in all senses:)




Checkout is godlike.

Maybe, even god. Do your best to avoid unnecessary steps, text fields, buttons, anything is a distraction unless the checkout cannot be done without it.
If that's not completely against your fundamental principles, allow people to make purchases without registration. But do give them the ability to register and/or log in via Google and Facebook (or any other platform popular in your target region)



Make your "add to cart" and "purchase" buttons big.

Prominent and visible from within arm's reach. This point is all about simplification with a slight touch of call to action.



Don't forget "add to favorites" and wishlists.

You'd be surprised by how much earnings are losts because of app owners depriving their users of the ability to get back to their plans the following day.



Optimize your backend for quick load.

This is 100% true for websites as well, of course, but mobile users tend to be a little bit more impatient: all in all, they don't have a smartphone to grab while that awful page keeps loading.





Have you ever taken part in creating or promoting an e-commerce app? Do you agree with our checklist?
We'd love to hear your insights and tips, unless, of course, you consider them confidential.