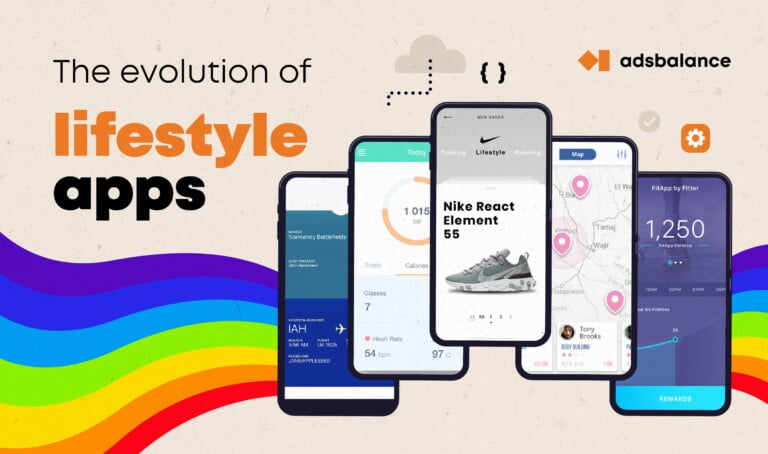 It's been a long time since you first noticed the lifestyle app category in your app store. The author of this does not remember their first encounter with the subject, only a vague thought of "what does this have to do with my lifestyle?" (Maybe it was Foursquare, you know, I go to cafes, so what?". By this we mean: have you ever thought about this category as "miscellaneous stuff hard to categorize"? Has anything changed in this notion in the past 5 years? We'll try to define what lifestyle means and follow the evolution of the notion.
So, let's say the named app category (surpisingly!) has to do with your everyday life. Everything that can help you do things, from writing a diary and keeping track of things to do, to sharing your evening out bills with friends.


We have surfed through the list of the best lifestyle apps of 2015, enjoyed the epiphany of the fact that there was life in 2015, and even top store charts, and Instagram was very yesterday. Here are the most popular lifestyle apps as of 2015, gathered from various ratings not devoured by google rankings.
Running apps (keep track of your routes, speed, share it with friends that have the same app). No, not the ones you would think of today, though the logic is pretty much the same.

Money sending app, we'd even say "money sending as a social action". Not connected to a specific bank (and nowadays all of the banks have their own apps). You were able to make all your transactions visible to your network. Sound weird in 2020, does it not?

Restaurant recommendations (filters by pricing/rating/locations). Nothing new here as well. We would say that separate apps for reviews are now a bit obsolete with the development of maps and social neworks communities, but they still have treit market share.

Tracking your expenses and income in a gamified way. It was already possible to add your bank statements and bills data automatically.

Barcode scanner with a price comparison option. Wonder why we don't use it in 2020. Or do we?

A runner game (Here's what we were talking about. It's not a lifestyle app!)

Restaurant reservations. In 2015 it was meant for introverts or even sociopaths, nowadays not willing to talk to anyone and minimize social interactions making an app do everything for you is only natural. Especially in a post quarantine social distancing era. (we still make reservations and this inspires optimism!)

a great marketplace app. The marketplace is great, not the app (though the app is obviously okay, alive and kicking in 2020 despite gaining a ton of powerful rivals in the past 5 years)

Calories counter (diet/nutrition tracking service with additional services). Still topcharted.

The most famous revolutionary dating app. The most "lifestyle" app apart from fitness, sleep and calories stuff:) w
Another rating provides us with a more "hipster-mindfullness-utility" style apps.
Some of them are so the day before yesterday and we do not even realize they keep creating the same one-purpose apps sentenced to oblivion in a quarter or two. On the other hand, some of the trends were there to linger. We'll let you guess what's where.
Mailbox sorting app.
Link sharing app.
Recent purchase price drop tracking app. (you buy a tv and if the price drops while you're waiting for your delivery, you can buy the discounted one and return the one you had purchased before. Tricky, but not at all useless.
Bill spiltting.
Travel tickets (hotels as well) recommendations.
Automatic bank deposit maker. Steals some money from your debit card upon your accord, outs it into a deposit.
Meditatatiorelaxation app.
Smart location sharing.
Sound design for dummies.
Replace your "new tab" background photo with a new gorgeous photo every time.
Running (seems that people won't stop running digitalized since they have started)
TV shows schedule.
Turning unwanted 2-sec videos into normal photos. (we adore)
Another meditation app.
Document scanner app
Turning videos into gifs
Book reading reminders and progress trackers
Also, there was a first boom of short video services that were the separate-app predecessors of Instagram Stories.
Our fancy find: short travel note companion for journalists.
What do we see here in 2020? The same meditation, yoga apps, habit trackers and sleep utilities. Actually, many more mindfulness and psychic health apps than there were some 5 years ago.
Fancy find: death reminder. Do not get scared too quickly, it's just a reminder of our own mortality several times a day. Would you go shopping for a new tote or eat another pizza if you knew you would die tomorrow? That's a tricky question, not necessarily answerable. Could certainly affect your lifestyle though!
What are the "old" apps that you still use in 2020? How many of them will become obsolete or funny in 5 years time? Are there any lifestyle changers in your smartphone?