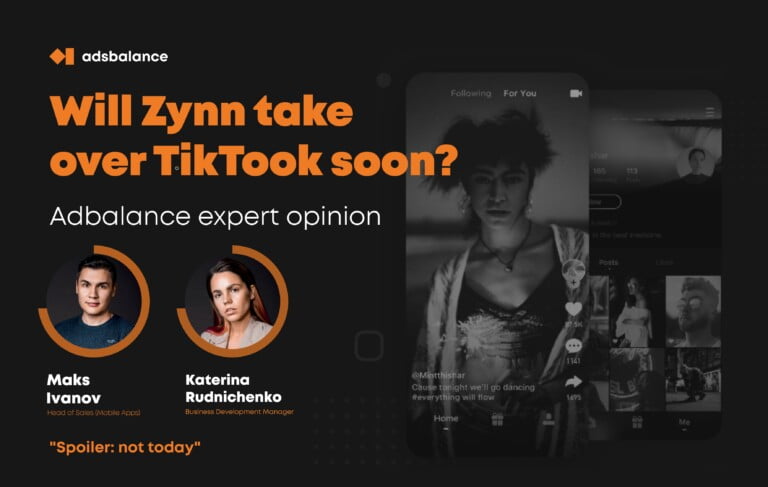 Did you notice that for the past couple of days your newsfeed was filled with mentions of Zynn — an app that has topped the App Store charts and has overcome TikTok (as well as Instagram and Snapchat) by daily downloads?
We have been following them for some time now, and now we're about to answer the one burning question: will Zynn overcome it's young but already renowned rival any time in the near future?
Before we start, a short intro to the matter. A word dropped from a song makes it all wrong: Zynn is a full app clone of TikTok, even the interface logic (up to the button size) is the same. For those who are less familiar with the second, it's home for short videos organized in a hypnotic way and a paradize for content creators used to be associated with Gen Z and their peculiar ways.
Zynn didn't just come out of thin air, it is a product of Kuaishou who breathe down Douyin's (=the Chinese creators of T) neck for quite a long-time. They are said to have brought the 2 billion dollars investment from Tencent (another to finally overcome the rivals both in China and in the rest of the world.
Now they decided to start with a hot piece of the pie — the US and Canada, and introduced a massive system of rewards — merely for registering, for watching, for inviting to use the app as many friends as you can, and there're dollars, not cents. It seems pretty expensive, but who cares as long as their income overtops it? [no insider info, just pure logic]
So are there any chances? Let's listen to Adsbalance experts.
Artem B, TikTok&Snapchat buying team lead:
"Absolutely no chances in the mid-term. The copycat business model never works this soon [unless there's a giant gap between the looks of the product and the operation management talens]. The O question doesn't contribute to the fast growth as well. As far as I know, apart from the investments, they donate their Chinese ads income to pay the American users, if you put it short.
In the longer term they might become an arch rival to TikTok and its market share, as soon as they come up with some unique functionality and work on their payback model"
Max Ivanov, head of sales (mobile apps):
"The possibility of overcoming anyone that big fast is close to zero: even is you have more that 2 billions of investments, it's impossible to acquire or buy the relevant quantity of traffic at once.
Regarding their advertising opportunities: for now I know nothing of what exactly Zynn has to offer, but Kuaishou's ad marketplace is in good standing and I look ahead to getting to know their new product closer, that is: to sell them"
Katerina Rudnichenko, Business development manager
"Definitely not, I totally agree with what Max says. If they concentrate on the US though, it's possible if they concentrate on buying big volumes and keep the platform appealing to the advertisers: there's limited number of audiences that can be attracted to the app by incentivizing the use of it, you need other kinds of goodies. As for the ad platform, I don't know anything yet, but I'd still be happy if we were among the first to try it"
Maria Lidvanova, partner relationships manager
"It all looks like a well-funded PR exercise for me,everybody's talking, and it seems to work, huh? The US is a complicated (in terms of user acquisition) region, but I'd say the "overcoming" thing is entirely possible — not tomorrow, of course. In spite of my great sympathy to TikTok, they still have their cons and punch items that might be used against them, both for advertisers and end users"
As you can see, taking over a biggo takes time, and what the author of this is dying to see is the TikTok course of actions: it's cool to be far away, but running faster and jumping higher seems a winner option.
What do you think?