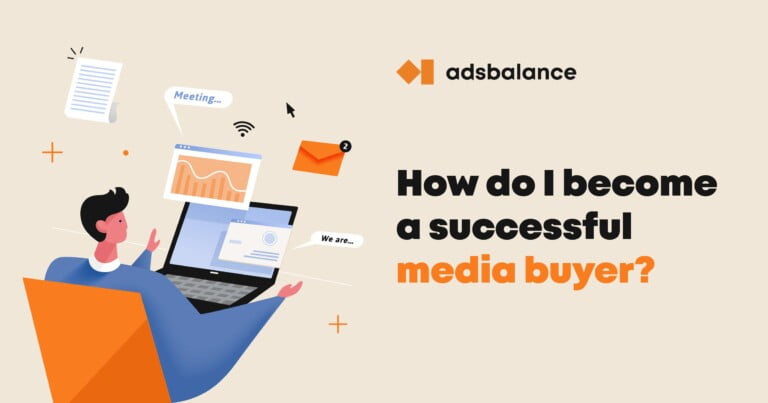 A long time ago, in a galaxy far, far away (some 10 years from now and maybe even more), media buying implied purchasing tv and radio air time, including the media planning, negotiations and signings. That kind of position still exists, but hundreds and thousands of vacant media buyer jobs mean something — not completely — but still hugely different.
The modern, most wanted, media buyer is responsible for buying online traffic, often from social media and running targeted ads, using their own creatives or someone else's.
That's a very short description, we believe you know that all anyway. Interesting fact: the demand for all sorts of buyers is overwhelming on the market. How so?
First, the quantity of ads on the Internet grows every year, and that's the growth to take into account: we do not only speak of ad budgets, but also of new ad formats, new websites, apps and types of placements. Even though many new agencies close or merge, their number also grows. It happens so that both junior and senior specialists are in shortage (the better the more, of course). That's due to several factors, including the young age of the industry (mobile ads, for instance), the nonexistence of higher education programs and the lack of targeted courses/workshops in general (the existing supply does not meet the demand), the volatility of people's moods: some of the young specialists end up doing something else in digital marketing: they manage, client relations or internal affairs, design, sell, communicate. Many employers even open their own learning programs for aspiring
However, we believe that one of the most important reasons is the following:
A:: media buyer is a person who needs a very special selection of qualities, talents, habits and aspirations. In this article we'll try to describe how a cool specialist looks like, from our perspective. Luckily, we have great references (but if you're a cool buyer, come over anyway!)
So, how a list of "best media buyers" characteristics could look?
The basic understanding of digital advertising.
Even if you have your sights on becoming a Facebook or TikTok guru, maybe with a prospective to unite blogger integrations and performance marketing, you still need to know the main concepts of digital advertising. Whatever the product you advertise is, you are rivals with any advertiser with the like impression bid, and they do fight for users' attention at all of the available digital platforms.
At the very least you need to read a couple of articles about the modern AdTech ecosystem and get the hang of it. However, it is better to imagine you are an advertiser with unlimited budgets and you need to get to the user the maximum number of ways. Create a list of possible ad placements and their formats and then explain to yourself (literally, we highly recommend you to speak or write the explanation down) the pricing for the chosen buying models. Sounds a bit dull, but some say explaining is the best way to remember and understand literally anything, and, in our experience, just reading the AdTech explanatories does not always work.
The knowledge of user psychology — any age, any region, any taste in music. The times when advertisers targeted their ads at 18-35 users are long gone: now they are trying to reach out to all sorts of people. Of course, with gaining some experience all buyers inevitably acquire some specialization and start loving certain verticals and users alongside: some may be good at touching zoomers' nerve, some know a thing or two about middle-aged rednecks, and some know how to mesmerise the third world youngsters with FinTech. Of course, a professional must tackle all sorts of tasks, but do not shun specialization: nowadays those who have expertise in a certain field are more likely to get employed than do-anything mediocres.

A sense of beauty. Disclaimer: you're not always going to need it, you'll even need to forget about it every once in a while. Imagine that taste is like rules: to bend them for good you need to know them very well. We know that banners (ad creatives) with text in the certain place and has a certain color scheme convert better but you need to acquire that kind of knowledge or receive from a mentor directly

Willingness and the ability to learn. From your colleagues, teamleads, the whole world around you. We talk not only and not so much of the counses: usually they are the base that accumulates the vital details like bones grow meat, as we have already mentioned, practice, the trial and error method work best here. Also, curiosity and attention to detail will save you some time for creative efforts.

Teamwork skills. Chances that you start out as a lonely buyer wolf are relatively low, so working in a team is a necessary [evil]. and you'll have to interact a lot: compete, help, brainstorm, learn. Employers appreciate it when a team member is devoted to common cause and demonstrates that clearly. As in many professions, bright talents are allowed to do things other people can't, but, first, you need to earn your untouchable status (when you have an opportunity to not be disturbed by tons messages, to not share the buying approaches, to walk through the office with an absent-minded or misanthropic look), second, this is, in our opinion, the bad and unnecessary luxury. It is highly advisable to be "a good person", respond to messages and show genuine interest in team and company goals, regardless of your fiber. At least if we speak of the digital marketing industry. Account manager who got your report in time would be eager to spend extra 10 minutes to explain the advertisers' creatives brandbook requirements next time, your fellow media buyer who got your help in translating banner texts to some exotic language will share the new traffic sources tricks when you're stuck with your campaign performance.

Copyist talent. As in many other professions, learning is copying the elders. The question of whether it is okay to look up to same-level team member approaches is discussed in each company individually. Spying on your competitors and likely products is an absolute must. Anyway, the ability to invent something of your own is still more highly-priced. If you do steal, steal like an artist.

Minimal affection for digits and the ability to draw conclusions. You don't have to be an Excel warrior, an average media buyers does well with a small number of formulas, also, the ad cabinets' interfaces have been doing the dirtiest calculations job for us for quite some time. Anyway, you cannot panic at the very thought of taking data from one platform and comparing/combining them with another platform's data.

A pinch of discipline. Media buyer is a creative profession but you will definitely need to:

launch the campaigns within the agreed timescale, with cross-team interactions and force majeures taken into account.

check those campaigns within the defined time range and be ready to make edits.

respect the approved ad budget and plan your activities according to it.

send reports about your performance

Being ready to work after hours or on a nonstandard schedule. We have already mentioned checking the campaigns at specific time intervals, but here's another reminder: ads run 24/7, and anything might happen, at any minute (but it's also great to set budget/time limits and not rely on your memory) Such situation has its own bonuses: once you have set up and double-checked everything, you can relax for a while and take a break legitimately.

Thinking outside the box. You might say that anyone need this quality these days (apart from, maybe, conveyor operators and the like), and still it's a top quality for a media buyer. Running ads has its own specificity: you'll face things not going as planned, unexpected rejects, creatives that don't perform at all, and all of these facts are absolutely okay, and certainly not the indicator own your incompetence. There are many offers that might look the same at first glance, but any of the nuances might change the buying approach completely. You'll always need to be able to think of something else, do buying the different way, know all available options. Imagine a writer who doesn't know what to write about!

Create a portfolio — and never rely on your memory. Collect all of the beautiful numbers, track records, clients' compliments: anything you can be proud of later.

Upgrade your skills regularly. Plan your learning.
Are there any qualities we forgot?
Please share your opinion in the comments section!