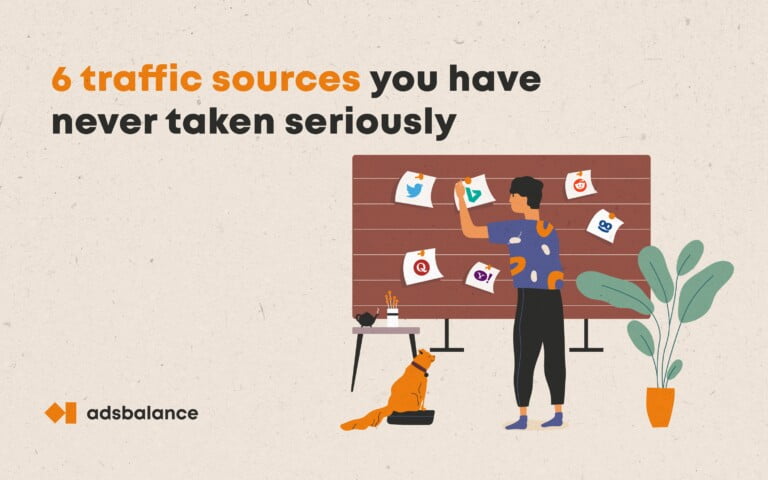 Whether you are a self-promoted brand, or a bigshot, or an agency promoting bigshots' apps of products you know only too well that quality traffic is generated through Facebook/Instagram/Youtube. Maybe in-app and video traffic, push notifications if you need greater reach. These are the first choice sources of paying or just real users, we aren't going to argue with that.
But if you have a strong feeling you have exhausted those channels, what do you do? Are there any big and powerful platforms to get users from or to be present at? Of course, there are: some of them are even greater than the mentioned ones, and we mean it.
Reddit
This is surely an example of bigger! According to Alexa, in 2018 this old-fashioned forum giant overtook Facebook in terms of daily US visitors. We're not going deep into the reasons for its popularity, but some say that the most significant feature is being maintained and managed by users — that's what you need to remember.
On Facebook the content distribution depends on the number of friends and subscribers you have. On Reddit, anyone (who follows the community rules) has a chance to reach out to an almost unlimited audience with user-generated content. We know you don't do much user-generated content and abandoned the idea to mimic it. But, if you've ever wanted to try going viral with anything, that's the place.
And keep on not trying to mimic the real users if you go for sponsored content. The punishment will be severe, and we mean it. Keep in mind that each major subreddit is a subculture in a subculture so you should be both vigilant and gentle in your marketing efforts.
The next thing is: the advertising opportunities range is not as developed as on other platforms, and the result is far from guaranteed. Prepare a variety of creatives with different approaches and be ready for the fact the first fry is bound to be a flop.
Twitter
Despite the reported decline in MAU, Twitter still is a mighty power and can make a boast of its 300+ millions of daily active users. It's biggest countries are the US, of course, then goes Japan with 50 mln users (Did you know that Twitter is Japan's second-biggest social network (after Line)?), then the UK and Saudi Arabia. If your top geos are not on that list, do not worry: you can still calculate the available audience with their built-in tools which are very similar to Facebook's ones.

Twitter provides a great variety of targeting options, among which are channel's subscribers' lookalikes — might come handy if you're only starting Twitter ads. In our experience, it's not all about politics and is a good source of installs for almost any legit app vertical.
Quora
One Quora respondent once said that this platform is the place where people come for important decisions. Partially, we agree. When a person asks a question, it's highly likely that they are searching for the information to proceed with. The choices might be hard, and some of us tend to procrastinate and delay the decision-making point, maybe, by making a substitute decision. Have you ever dropped by at Amazon to renew your kitchen utensils supply and ended up buying new shoes, a stereo and a couple of Christmas gifts at a reduced price? However organized you are, you're still very prone to be influenced by the "distraction" ads, especially when they are somewhat relevant.
By the way, they even have a CPA model and the impressions are sold with a well-known auction model. If you have the start budget for an experiment, why not try?
Yahoo Gemini
It's not all about Google! Plenty of people still use Yahoo search and Yahoo mail. In fact, you can buy ads from Verizon Media Network in one place, and they have AOL, Tumblr, and HuffPost too. There are different native ads formats, including ones specifically designed to bring mobile app installs. If you're a big fan of Google Ads campaigns, and they work well for you, you can import your Google Ads campaign settings right away (but please keep in mind that you might need to adjust them).

Bing 
Not-all-about-Google-2, — called Microsoft ads in our case, number 2 in terms of search audience in the US and in Europe. We'd say that your competitors are already there, but we're not completely sure about that!:) Precisely due to the fact that this search engine is not the first-choice source of ads traffic, the prices might please you because the auction for a specific user is less, so to say, heated.
You pay after you run a campaign, and it's important to know that e-bank cards and virtual cards are not accepted, and you'd better not try to add them as a payment method: your account might be banned. Apart from that, the interface is quite simple and if you have any previous search ads experience, setting up a campaign would not be a difficulty.
Another fact: the Bing audience is different from Google's. Stats vary, but most sources agree that it's a bit older and with a higher income. Sounds nice, doesn't it?
Taboola
"And now something completely different". Taboola is one of the top world's native ads platform focused on text content. They have an impressive number of websites to serve their ads and brand safety is what comes to our minds when we hear the name Taboola: they provide full transparency in terms of where your creatives are run. They work with CPM, CPV and CPCV models, but they are fit for lead generation as well and their attitude to publishers attract the best content creators: not only they earn from ad watcher on their site, but also have a chance to drive more quality traffic to it using the same platform. Content quality also needs to be mentioned — they have a dedicated quality control department.
Did you find any channel appealing enough to try right away? Drop us a line, and Adsbalance team will help you choose the right medium to skyrocket your campaign reach!