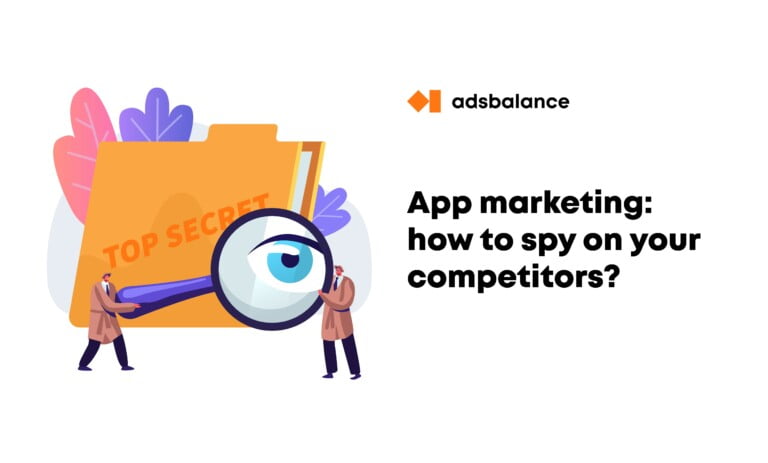 When you start (or, better, continue) to market an app, choose the right user acquisition strategy, and the best marketing agency to do media buying for you, how do you know you are doing everything the best possible way?

Who is to tell you you have covered all the top keywords (see our ASO article to find out how to set them up) and keeping up with your rivals in terms of user acquisition volumes, charts positions, and overall performance?

Where do you follow the latest market trends and see if you're all fixed and up to date?

Maybe (and this is definitely a good option) your all-in-one agency does this for you, but what if it goes at some extra cost or you just want to have visual control over every aspect of your app's existence?

That is the situation where you rever to app intelligence providers, also knows as competitor analysis tools, spying tools, or, as part of a wider group of platforms, app analytics tools.

We'll speak of the types of data they provide a bit later and now will try to answer the question that many of us ask ourselves when choosing a platform: how do they get the data and how accurate is it?

Open-source data. The most straightforward source of information: Google Play and App Store data, including the ratings, reviews, charts positions, number of downloads, and category listings, parsed and put into comprehensible form, along with the company websites and publicly available ad campaigns

Spying apps. Some of such platforms are reported to gather app usage data via a huge network of free utility apps (for example, VPNs) installed on users' devices. They do say they collect user data and often request the root certificate to monitor all of the traffic that passes through the device but do not specify how they use the information. Some of those apps have already been removed from the stores for policy violations, some of them are still under investigation, but we all understand only too well it's not a problem to create a bunch of new apps of the sort or buy/sign an agreement with the app owners to buy anonymized data from them.

Data shared by app owners: some providers let product owners access some of their intelligence tools for free if they share their product data, promising all the necessary privacy precautions.
How accurate is all that info?
It's safe to say that publically available data, as well as the data shared voluntarily by app owners is quite accurate — the downloads, the ratings, the revenues, while we cannot be so sure about the rest. As for the usage data stats data, it's often taken for a relatively small statistical sample and extrapolated, which can be done by either taking 100% data from one app and extrapolating it to the similar ones, or by taking some random 10% user data of the needed app data and assuming the conclusions are true for the remaining 90%. Some platforms state directly that the overall "correctness" of the information is around 80% which is not perfect but still good enough for analytics, market analysis and predictions.
Are mobile intelligence providers different from each other? It's very tempting to say they all use the same "controlling stake" of data and provide you with the same services but that is not completely true. Each one uses their own sources of data, each one has better and more precise results in specific verticals. Last but not least — each one has different plans adapted for their target businesses. The most expensive and even the middle-priced solutions do not necessarily have the optimum functionality to price ratio.

What are the best mobile app intelligence platforms and what kind of service do they provide?

Sensor Tower. A long-standing market leader founded in 2013, a big platform aimed at enterprise users. Got involved in some data sources situations but still are among the top analytics providers.

Top SDK analytics. Reveals the top third-party SDKs installed into the likely app categories and subcategories. Those SDKs serve different purposes, from app analytics to advertising so it might help you quickly define the top-demand programs you need to install into your code to meet all your requirements. Top SDK filters data can be combined with the other

Usage intelligence — daily active users, retention rate, number of sessions, time spent (a key factor to understand the LTV of your users), demographics along with app overlap (the insights on what kind of products' users are more likely to install your app and interact with it) will help you compare you app stats to similar products, analyze your performance and optimize your app ads targeting.

App intelligence — a tool for App Store Optimization. It enables you to look at each app's profile and observe its stats and life cycle, as well as the specific category rankings. There's a nice breakdown — the visibility score. It shows you the visibility of the app for the specified keywords, featured/reviews historical stats. Also, the enterprise version allows you to make predictions about whether your app is likely to rank high (top 10) for the needed keywords, and the competitive analysis might be the feature you would initially go for. Another nice option — the ability to analyze your localization efforts results. You can receive all the necessary daily reports via email, which is indeed very comfy.

Store intelligence. That is the "place" where most of your market analysis happens. You can see top apps and publishers rankings, as well as their estimated revenue. Game owners will enjoy game genre breakdowns (so you'll be able to tell mach7 from mid-core strategy stats)

Ad intelligence. We, as an agency, love this feature. You can see any app's public ad creatives and the budgets allocated for each traffic source (so that you will know whether your rivals buy Facebook traffic of focus on Snapchat heavily). Also, you can create a breakdown by total spend and see the top advertisers for each category and platform.

App Annie. Unlike Sensor Tower which has no free plan at all, App Annie Connect and a part of App Annie Intelligence are available to everyone who creates an account at no cost. So what types of information can you get free of charge there?

First of all, "App tracking" enables you to track any app's details, ranking history, and top charts at the full extent. All of the reviews are available, but the premium plan allows you to access smart reviews analytics (key topics, the reviews' impact)

Regarding keyword analytics: most of the vital functions are free, but you'll have to pay for competitor keywords analysis and keyword visualization. All of the paid search analytics, including finding competitor-risk-free keywords for promotion or your rival's search phrases' bids comes at a price.

What comes further is mostly heavy metal — stuff needed for precise market analysis and hard to find in open sources. That's why what we are going to talk about next is mostly the premium users' prerogative. When it comes, to revenue and download estimates, App Annie provides you with a range of top-notch custom reports, including top apps and top publishers by income and downloads, including those both divided by countries and regions and from a worldwide perspective. Also, there are estimates for the general market size for each category, which might help you with planning your potential income.

App usage data usage stats. The coolest features (apart from the regular DAU, MAU, WAU, and retention rates), in our opinion, are 1) data usage – sorry for the calambour. Here you can wee the average amount of data that comes through the app for an average user:) 2) cross-usage: shows you what products are most likely to be downloaded and opened by the same users. By the way, haven't you seen this feature a couple of paragraphs before? 3) behavioral models for different demographic groups 3) the tricky market penetration — how many people used the app during a period of time and how many devices have this app installed, as

Game insights — a whole section providing enhanced analytics for all of the most common game genres (and you can create you custom genre and analyze it alongside others)

Mobile web usage stats — the same data sections but for mobile web. Of course, the information can be combined and mixed with app stats, which is, i.e., great for e-commerce platforms that often have an equal share of mobile and app users.

SDK insights — pretty straightforward, this is very close to what Sensor provides us with

Advertising Estimates — the same here apart from the handy access to the advertising networks data (not only what kind of ads a brand runs, but also it's service providers)

Also, paid functionality makes your life easier by enabling you to create custom reports, download data in CSVs or via APIs: all of the adult data playing pleasures you can possibly hope for.

AppFollow. Those provide the same market and competitor analysis services, but focused on ASO heavily. Also, the core feature isthe extensive user-communication
functionality and a wide range of various integrations, including SalesForce, HelpDesk and many more.
Unlike the others, they do reveal their pricing on the website: there's no free plan, but the cheapest starts from $111/month,which is, indeed, very affordable.

Who's next?
What's your fave app intelligence provider?
How often do ou refer to their data and what insights did it lead to? We'd love to hear your say!