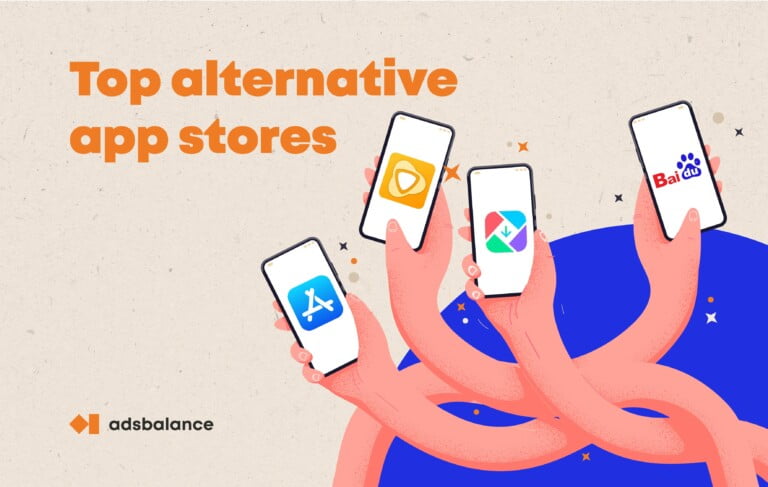 Where do you download your apps? Some 5 years ago the author of this would respond: App Store. Or do you mean Google Play store? Maybe, some freaky platforms for jailbroken or rooted devices? Times do change, and now choosing your app and its source is pretty similar to shopping. If I want a regular pair of jeans, I go to the shopping mall, if I'm up to high-end selvage stuff, I might visit a local Asian vintage store, if am male and I want a pair of sexy laced something, I order the anonymous delivery to a pickpoint. Or vice versa, just because I can, and – thank God – no one cares.
Why should anyone ever need an alternative to most popular app stores?
Well, the most obvious reason is: the app you need just isn't there for you.The other might include: you want some of your downloads to be private and the great Google/Apple companies know a bit too much about your life anyway, so why not give them some rest, or you avoid their services in general (as much as you can) Or you'll all for unrestricted and fair competition for app stores and want to support other products. Or support your fav app developer who's been ditched by the majors for nothing. Also, keep in mind that almost 1,4 billions of people just don't have access to Google Play, because they are Chinese. Leaping ahead, they're not to be pitied because of that:)
Developers follow their audience and want to have the widest possible reach, so many of them try to appear on numerous platforms. Some of them just don't fit into standards and don't have any choice.
BTW, if you are an app developer, even a big one, we highly recommend you to consider the alternative stores if you haven't done it yet!
Whatever your reasons may be, we are here to help you find your next downloads destination:) So what are the top IOS store alternatives?
AppValley: it's really big and, what really matters, does not require a jailbreak. You can get loads of apps: regular – available in the original App store, exclusive – the ones that are present only there, and tweaked – regular apps with additional functionality, as well as access to some unlocked content. Also, they say it's quite safe, but please keep in mind that the use of any alternative store is at your own risk.
TweakBox – as follows from its name, a source for tweaked (=with add-ons) apps. We don't recommend you to download pirate content anyway, but we cannot but mention that it's also home for hacked games.
TutuApp – another popular IOS (as well as Android) store that doesn't require jailbreak.
It's interface is quite similar to what you're used to even though it's Chinese!
It happens so that Apple doesn't like some of the content available there (as well as in the other alternative stores) and keeps telling you the some apps have troubles with the certificates
IOS stores are as common as blackberries (please vote for this calambour in the comments section) but Android stores are superabundant, and the introduction of smartphone manufaсturers' own platforms has contributed to the fact a lot — but let us not jump ahead.
Opera Mobile Store – millions of people still prefer Opera to other browsers on mobile devices, but that's not the only thing they do good: the Opera app shop (don't be scared, it's located at bemobi-something.com, and it's okay) is a destination for "alternative operating systems" in the first place (remember Windows Mobile and Blackberry). Android users will find nice pickings there as well, and the fact that all applications present are double-checked and fully legal will be a nice addition for those who don't want the so-called majors but also want everything old-school and legally transparent.
Amazon App Store is considered to be Google Play's greatest competitor: it gives one free paid app in each category a day, it's (as you might supppose) 100% safe, and, as a bonus, it has a huuge list of Kindle (and Amazon TV) add-ons. Being a part of a great ecosystem of everything has its obvious cons!
SlideMe – did you know it's older than the main Android store itself? Anyway, it's still alive and kicking, sadly, it's community has not been as active for the past several years, but the appealing terms offered for the developers (only 20% of all purchases is charged) make both indies and majors publish their applications here.
F-droid. We won't be mistaken if we say that F stand for "free" here – it's home for free and open-source software (FOSS), and the platform itself is nonprofit and is supported by users' donations. You can either download APKs or make downloads right from the F-droid app which is recommended by the administration as a safer option.
The selection of utilities, intellectual stuff and crazy open-source stuff is just awesome, but if you need the regular nice and easy app you've seen on "this and that guy's phone" this is probably not the right destination,
APKmirror – we didn't tell you anything, but it has older versions of the apps! Remember this when something updates and stops working all of a sudden – a thing that happens on any Android device (probably any device in the world) regardless of price, because it's mostly the devs to blame. Of course, it lets you download the apk file itself so consider your own risks.
GetJar is cross-platform, big and has all the categories you're so used to. As well as comments and a connection to Facebook, and the ability to estimate the software's trustworthiness is an undoubtedly precious option nowadays.
Samsung Galaxy store – a kind of pioneer of "manufacturer's" stores. Same as for Amazon, it's not always about your cell phone (we hope you remember TVs and SmartTVs exist).
Baidu – not aspiring to think you know Chinese, we might seem strange recommending you this, but not that strange: every now and then we see someone downloading an app from Baidu because there's some highly reasonable urge. That means you'd better check this out right now and get used to the translating, maybe explore the area — before this gets really urgent. In case you didn't know, it's the biggest app store for the deprived-of-Google-play part of the world, and we cannot say for sure who's bigger tomorrow.
Also, top Chinese smartphone manufacturers – Xiaomi and Huawei (others as well) wouldn't be themselves if they didn't try to created their own ecosystem as a replacement for GP and looking up to Apple. The assortments copies Google Play – the author of this wouldn't see the difference in the selection of applications, but the manufacturers state they are 100% safe, even safer that the 1-st choice store. At least, owning a specific device and trying them won't hurt.
What's your favorite alternative app store? Have you ever tried one? We'd love to hear your comments!